Searching for Meaning in a Condo Collapse
June 28, 2021 at 5:15 am 1 comment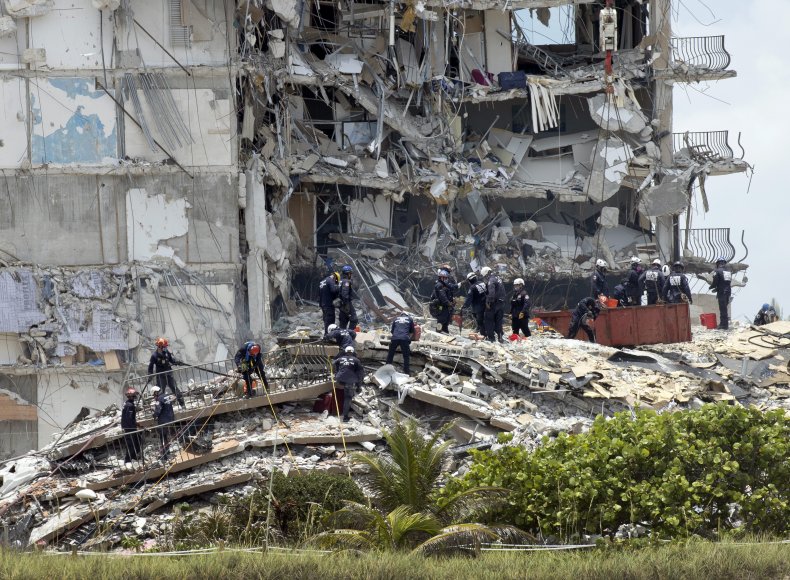 I first heard of the news about the collapse of Champlain Towers South, a condo complex on the beach in Surfside, Florida, early Thursday morning while staying in a condo complex on the beach in Port Aransas. The reports sounded ominous. The pictures that have emerged are dolorous. The number of people still missing is tortuous. And the reason for the building's collapse remains mysterious.
When a tragedy like this strikes, it is natural for people to ask: Why? We have an intractable need to find meaning, even in the midst of what appears to be a desultory disaster. In our minds, a disaster is never just a disaster. There is always a reason behind it. There is always something we can learn from it.
This desire to find meaning in disaster is nothing new. The specific meanings we derive from disasters may change, but our search for some kind of meaning – any kind of meaning – remains. This search for meaning is what Jesus addresses when He references a tower collapse in His day and the meaning people had assigned to it:
Those eighteen who died when the tower in Siloam fell on them – do you think they were more guilty than all the others living in Jerusalem? I tell you, no! But unless you repent, you too will all perish. (Luke 13:4-5)
In Jesus' day, there was an assumption that if a disaster befalls you, this indicates an especially grievous sinfulness had engulfed you. Jesus says that deriving this kind of a meaning from this kind of a disaster is wrongheaded. But just because this meaning cannot be derived from this disaster does not mean no meaning can be derived from any disaster.
So, what meaning can we rightly find in disaster?
Near the end of his life, Solomon, one of the greatest kings of ancient Israel, reflects on all he has done, experienced, and accomplished and compiles his thoughts in the book of Ecclesiastes. After much reflection, he arrives at this conclusion:
"Meaningless! Meaningless!" says the Teacher. "Utterly meaningless! Everything is meaningless." (Ecclesiastes 1:2)
Though these words are quite famous, they also represent one of my least favorite translations in the Hebrew Bible. In Hebrew, the word translated as "meaningless" is hebel, which does not denote a lack of meaning, but instead describes transience. Hebel is a "vapor" or a "mist." Solomon's point, then, is this: just when we think we've taken a hold of something, it slips through our fingers. Solomon continues by offering a litany of things that slip through our fingers: wisdom, pleasure, hard work, and riches. And it is here with hebel that we find not meaninglessness, but some much-needed meaning in disaster. Disasters remind us that this life and everything in it is like a vapor or a mist. It slips through our fingers – sometimes when we least expect it, like when a tower shockingly crumbles. This life can be shorter than we care to admit.
So, what are we to do in light of life's transience? On the one hand, Solomon says, this kind of transience should lead us to live joyfully in this day because we do not know whether another day awaits us:
I know that there is nothing better for people than to be happy and to do good while they live. That each of them may eat and drink, and find satisfaction in all their toil – this is the gift of God. (Ecclesiastes 3:12-13)
On the other hand, life's transience should also lead us to search for something that is not transient – something that lasts. This is why Solomon says in the next verse:
I know that everything God does will endure forever. (Ecclesiastes 3:14)
This life may not last. But what God does will. This means that when God sent His Son to bring life, He brought a life that lasts – a life that is eternal. Tragedy may remind us that this life doesn't last. But God gives us hope for a life that does – a life that extends far beyond this one. And that's not just meaning we can take from a tragedy like the Champlain Towers collapse; that's hope we can have no matter what tragedy we may face.
Entry filed under: Current Trends. Tags: Champlain Towers, Christianity, Condo Collapse, Faith, Florida, Hope, Meaning, Miami, Surfside, Tragedy.